Barbara St. Clair Appointed to the Cape Regional Health System Board of Trustees
July 21, 2021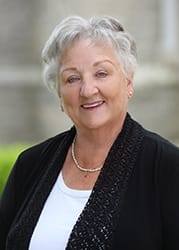 Picture description – Barbara St. Clair, Cape Regional Health System Board of Trustee Member
CAPE MAY COURT HOUSE – Cape Regional Health System has announced the appointment of Barbara St. Clair to the Cape Regional Health System Board of Trustees. Since 2007, Barbara has served as a member of the Cape Regional Foundation Board, providing leadership and supporting various events that have helped fund a variety of major initiatives at the Medical Center.
"We are pleased to announce the appointment of Barbara St. Clair to the Cape Regional Health System Board of Trustees," stated Garry Gilbert, Chairman. "Barbara is a true friend of Cape Regional and is a strong advocate of how quality healthcare impacts the Cape May County community. We are excited to welcome her to the Board of Trustees and look forward to working side-by-side to continue to provide the highest quality healthcare to our residents and visitors."
Ms. St. Clair is a partner at Write ImPRessions, LLC — a woman-owned business started in 1998 that focuses on public relations services. Over the past 20 plus years, Ms. St. Clair has worked with local non-profits, real estate businesses, tourism entities, restaurants and arts organizations providing communication and media services.
Ms. St. Clair served as Public Relations Coordinator of the Cape May County Technical School District from 1994 to 2011. She also served as a staff reporter from 1977 to 1989 for the Gazette Leader Publication, a local weekly newspaper at the time, and she was named Publisher in 1989 and continued her tenure through 1994.
Ms. St. Clair resides in North Cape May and is a member of St. Barnabas by the Bay Episcopal Church. She is a Trustee of the Cape Women's Resource Fund since 1996 promoting issues that impact local women and funding scholarships for young women in Cape May County to further their education. Ms. St. Clair is also an avid golfer and is an active member of the Women's Golf Association at The Shore Club/formerly Wildwood Golf Club.